Specifications
Elight hair removal machine
1,Germany handle plug,UK Xenon lamp
2.Language optional
3.CE1023,ISO13485
4.3 years warranty

Application of elight beauty machine
1) Hair removal: limbs hair, axillary hair, beard, lip hairs, etc.
2) Skin rejuvenation: remove wrinkle, whiten skin, shrink pore, remove acne, etc.
3) Speckle removal: freckle, age pigment, sunburn, birthmark, etc.
4) Vascular Lesions: telangiectasia, rosacea, spider angiomatas, etc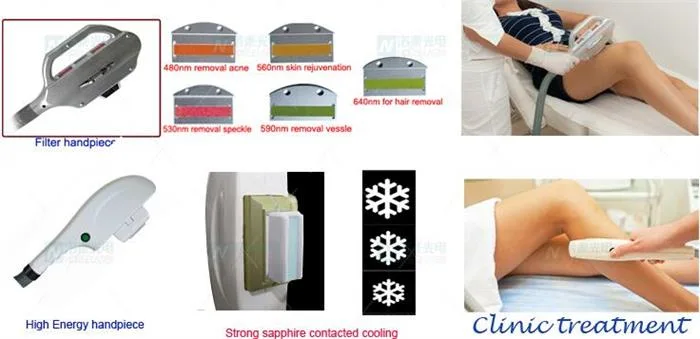 How does the elight beauty machine work?
The E-Light technology fully combines the advantages of optical energy and radio frequency. With the impedance difference in skin and pre-heat produced when the skin selectively absorbs optical energy, the targeted tissue absorbs radio frequency with lower optical energy. So, with a very low risk of side effects-pigment lesion, blistering-generally caused by higher optical energy, we are able to achieve good result with comfortable treatment. The traditional IPL device can only reach 2mm into the skin, however, the Eos E-light creates a deep penetration into the dermis about 15mm. So, with this technology of E-light, we can achieve more applications, especially on wrinkle treatments and skin tightening.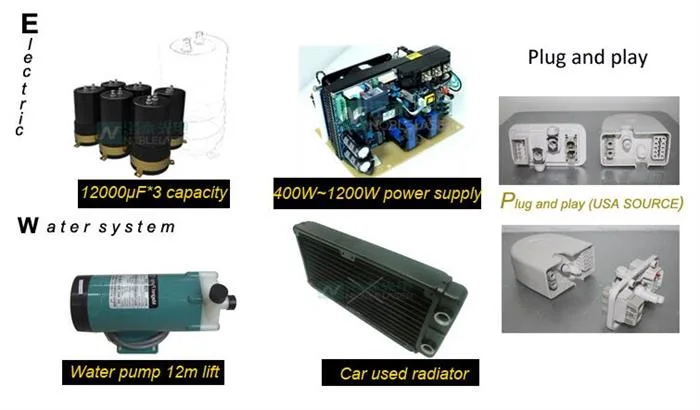 Advantages of elight beauty machine
1) IPL + bipolar RF system
2) High energy outputs, high effective.
3) Different spot size suitable for different area treatment
4) Different hand pieces with different spot size optional
5) 8.4 LCD Color touch Screen
6) Expert system with skin type and skin color selectable
7) USA & German standard hand piece fast connection
8) Semi-conductor cooling head and water cooling system
Specification of the elight hair removal machine:

Lamp-house

Super intense pulsed light

Range of Spectrum

480-950nm: remove acne

530 -950nm: speckle treatment

560 -950nm: skin rejuvenator

590-950nm: remove vessel

640 -950nm: remove unwanted hair

690-950nm:remove unwanted hair, optional
755-950nm: remove unwanted hair, optional
810-950nm :remove unwanted hair, optional

RF Frequency RF

3MHZ

RF Power

1-100J/CM3

Density of Energy

Portable: 1~50J/cm2, Vertical: 1-60J/cm2

Power supply output

Portable model: 800W, Vertical model: 1000W

Size of Spot

Filter handpiece: 12*30mm2, 13*40mm2, 15*50 mm2
Energy fixable handpiece: 8*40mm2, 16*50 mm2

Amount of pulse

1~6,adjustable

Interval of Pulse

1~99ms,adjustable

Sub-pulse Width

0.1~9.9ms,adjustable

Cycle

1~4s,adjustable

Cooling Way

semi-conductor cooling, water cooling, air cooling

Cooling Temperature

-5-5 °C

Screen

5.7 /8.4 inch color touch screen

Power Supply

220V/110V ±10% 50Hz/60Hz

Continuous working period

24 hours

Language

English, Spanish, French, Portuguese, German, Russian
After sales service &Warranty
1.PROFESSIONAL GUIDE
24 Hours Professional online customer service
Engineer after sale team for professional Guide
Quality accessories
2.WARRANTY
3 years free warranty, lifetime maintaince