Most Effective Class 1064nm Tattoo Removal Machine Q Switch ND YAG Laser for Tattoo Removal Device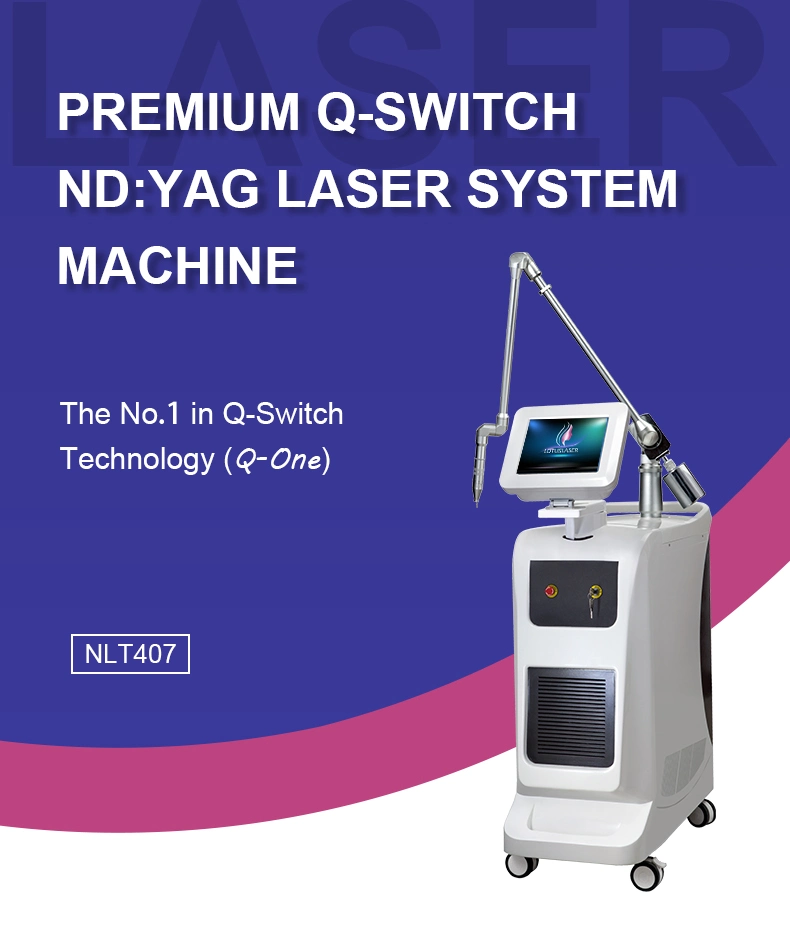 Tattoo Removal:
Remove black, blue, brown, and colorful (such as red, yellow, green) tattoo on eyebrow, eye line, lip line, and other parts of body.

Pigment Removal:
Freckle, Sun Spots, Age pigment, Pigmentation, Birthmarks, Cafe-au-lait Spots, Nevus of ota.

Skin Rejuvenation:
Deep cleaning, Whitening, Skin Rejuvenation, Pores shrinking and Anti-Aging.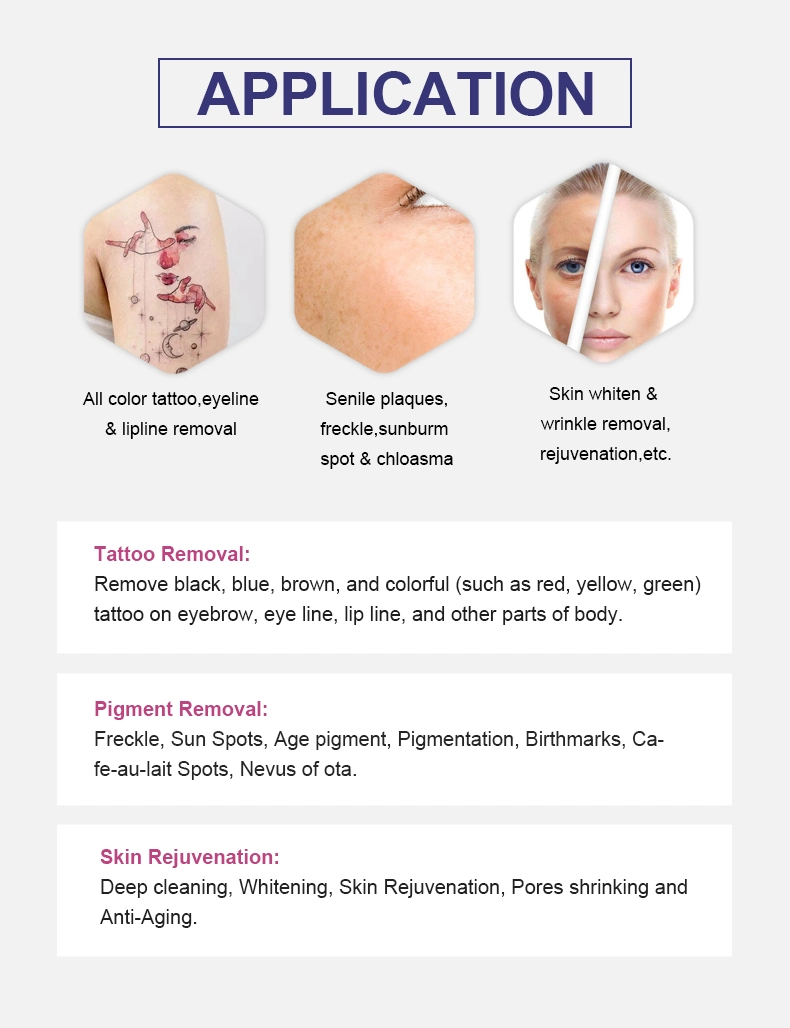 Q-One is a premium Q-switched Nd:YAG laser with extremely short pulse during sustained period can be used in wide variety of applications with high efficiency as it is a highly effectual cure in Pigment Lesions on epidermis and dermis. In addition, an outstanding advantage of Q-One is that laser is selectively absorbed only into melanin pigment without injuring adjacent tissues.

1. Q-Single Pulse Mode
532nm wavelength removes the pigmentation on epidermis, such as freckles, lentigos and age spots mostly, while 1064nm wavelength cures lesions responding to the pigmentation located deep inside of dermis, such as the tattoo, nevus of ota.

2. Q-Double Pulse Mode
delivers twin-pulsed, high-output energy at very short intervals. As a pulse is divided into two in the Q-Double Mode, it is associated with less injury to the surrounding tissues, less pain and faster regeneration, compared to the previous single pulse, at the same energy output. It is also associated with less hypo-pigmentation, PIH (post-inflammatory hyper-pigmentation) and other adverse effects.

3. Quasi-Long Pulse Mode
Quasi-Long Mode (pulse width 300μs @ 1064nm) is a combination of toning and lifting which enables pigmented cells to absorb the laser selectively. It stimulates collagen by the destruction of pigmented cells, and it is useful to general skin for regenerating after peeling, improving loose skin, and minimizing large pores.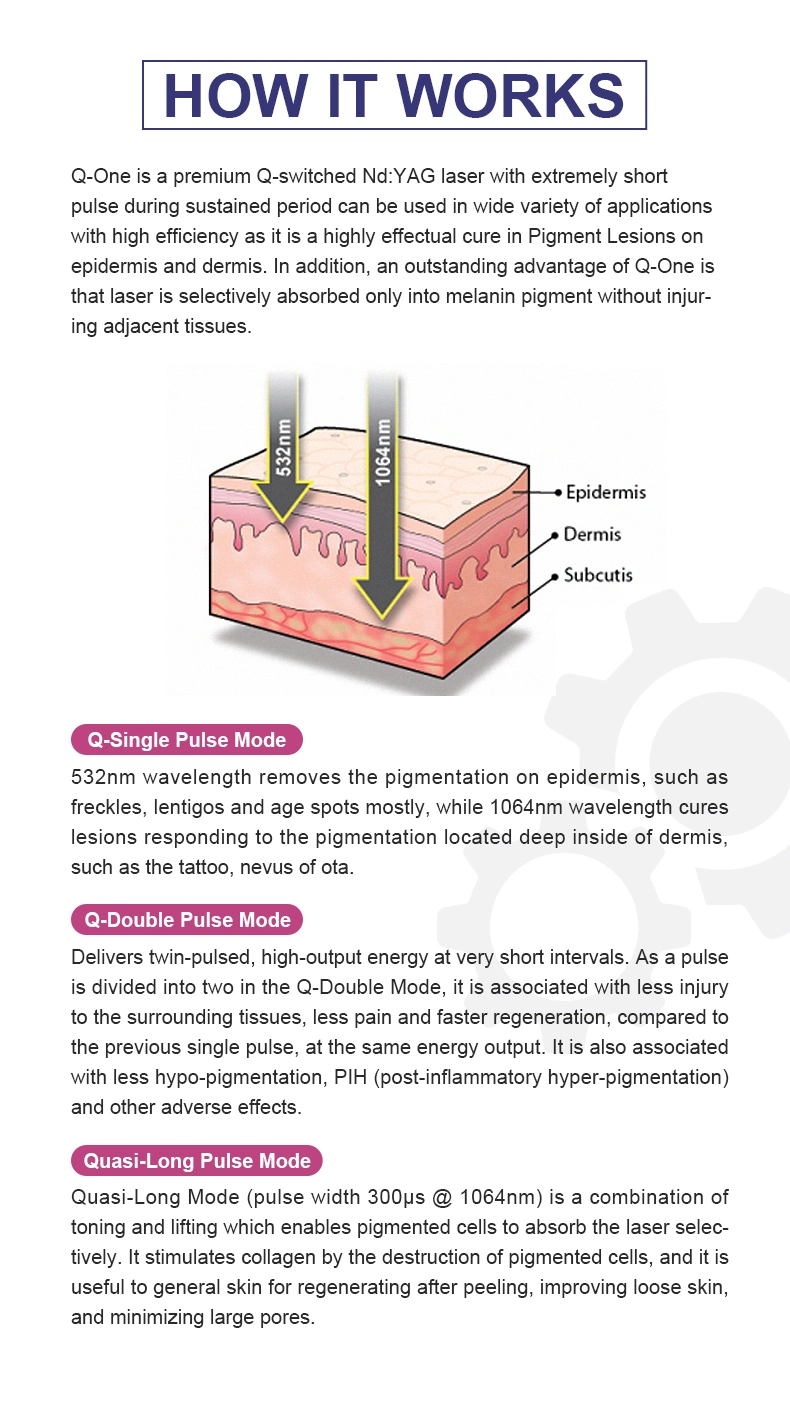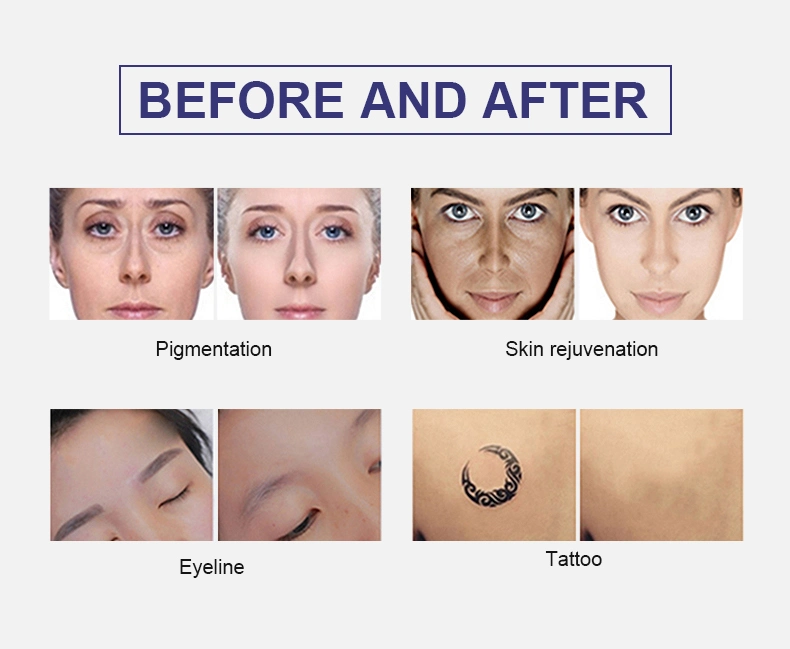 Friendly & Intelligent User Interface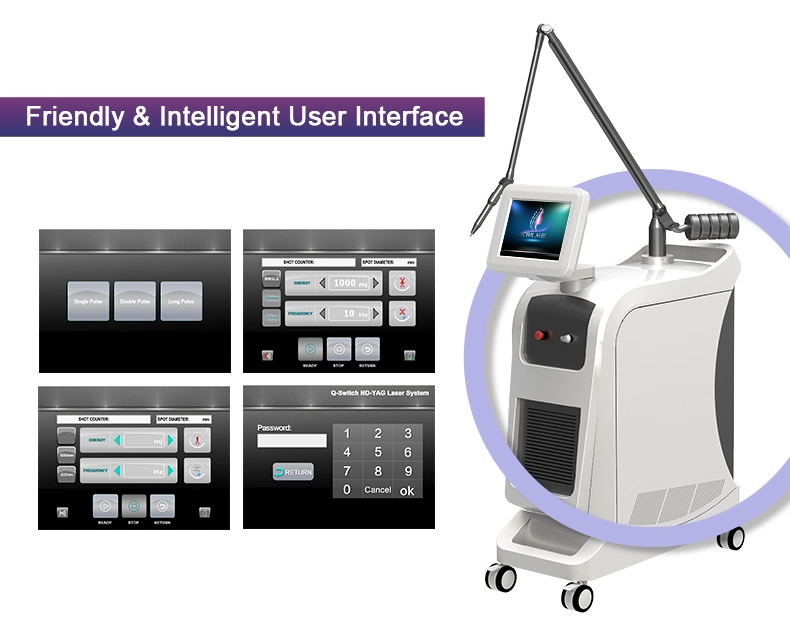 Handpiece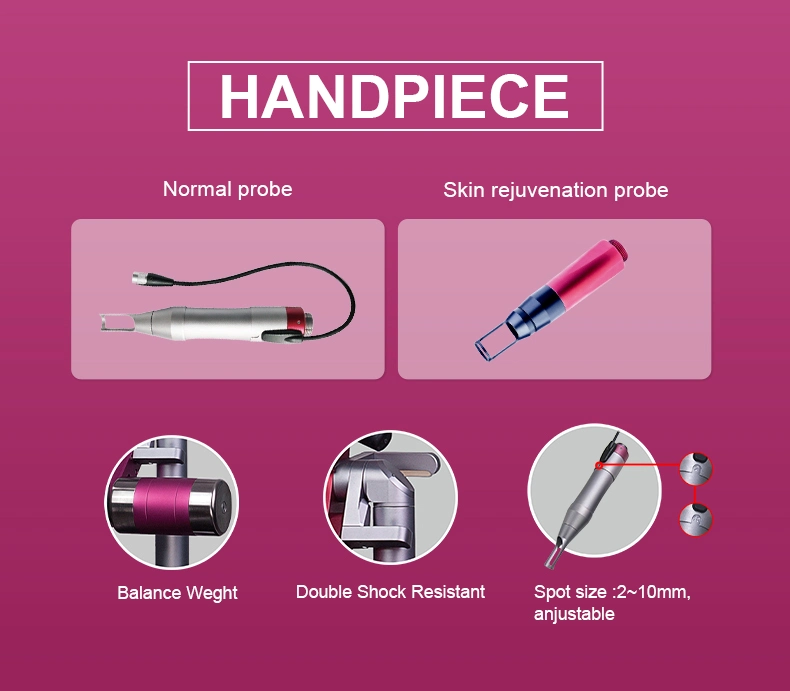 1. Auto-Calibration & Self-Restoration
Energy is always kept within the ideal range even without regular visits by an Engineer.

2. Korea Imported Laser Arm
High laser transmission (>=95%), doubleshock-resistant setting, and adjustable balance weight available, achieve stable laser output, and longer lifespan.

3. Adjustable Aiming Beam
The brightness of the red aiming beam can be adjusted according to the lesion or skin color, achieve accurate treatment even on tiny spots.

4. Auto-Detected Spot Size, 2-10mm, adjustable
Spot size change is available without replacing the tip, and automatically detected by the laser system for user convenience and safety, also selective treatment of various areas is available.

5. Uniform Top Hat Beam Profile
Guarantees uniform distribution of laser energy, thus reduces side effects such as PIH.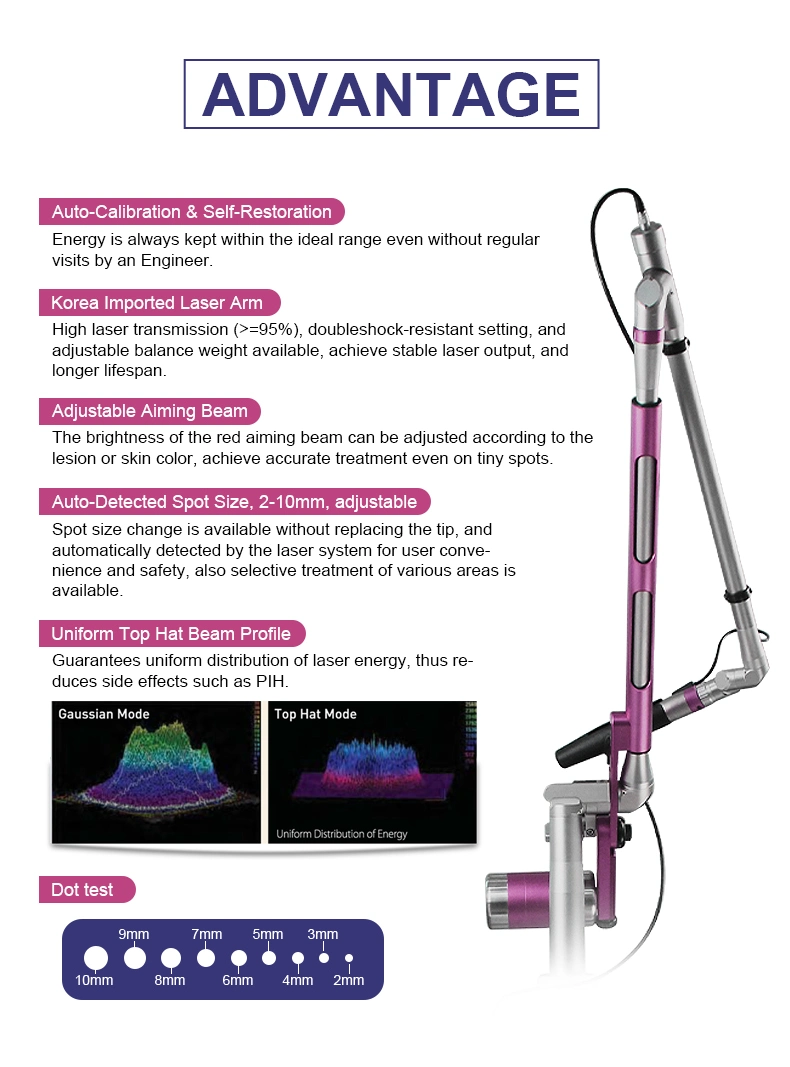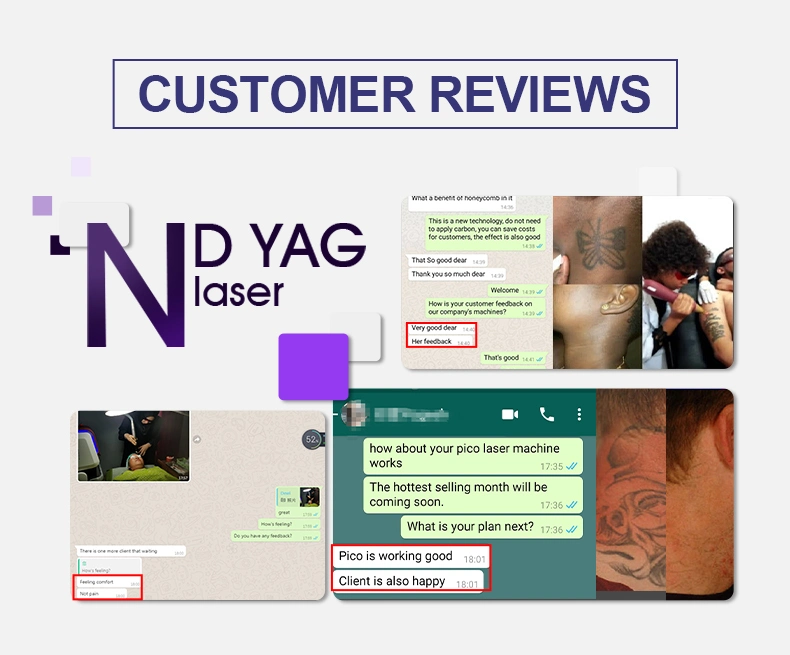 | | |
| --- | --- |
| Model No. | NLT407 |
| Display | 10.4 inch color touch LCD screen |
| Laser type | Q-swith ND:YAG Laser |
| Wavelength | 1064nm/532nm |
| Spot diameter | 2-10mm,with adjustable treatment probes |
| Power | 2000W |
| Pulse width | 2-6ns@Q-swith Mode:300us@Quasi-Long pulse |
| Frequency | 1-10HZ |
| Cooling system | Closed-off water circulation Inside+air cooling |
| Single pulse energy | 1064nm: 800mj; 532nm: 400mj |
| Double pulse energy | 1064nm: 1600mj; 532nm: 500mj |
| Quasi-long pulse energy | 1064nm-3J |
| Machine size & Weight | 110*56*104cm,103KG |
1. Where can I find the instruction for this machine?
Plz send inquiry to us, and our seller will send machine catalogue and user manual to you.

2. What kind of training do you offer?
We provide user manual, online guide, online video teaching. We can make sure you can actually operate the machine (Our special service).

3. What is the Payment Terms?
Western union,T/T(Wire Transfer), Alibaba trade assurance, Money gram,etc.

4. How do you deliver the machine?
Door to door service, like DHL,UPS,TNT,FEDEX,etc.

5. How long can I get the machine?
Usually,we need 5 woring days for production,and express need 7 days for shipping.

6. What is your warranty?
2 years warranty and lifelong time technical support are provided.