Professional Anti-Cellulite & Body Shaping Machine Vacuum Velashape Slimming Roller Massage

Theory:

1.Infrared laser lowers skin impedance by heating skin and RF energy penetrates deeply into connective tissue.

2.The synergistic combination of infrared laser and conducted RF energy increases the oxygen intracellular diffusion by heating skin.

3.The technology that vacuum folds skin makes RF energy penetrate a specific folded skin, significantly improving effect and safety, even for the upper eyelid area treatment.

4.Vacuum plus specially-designed rollers manipulate leads even RF penetration (5-15mm). Meanwhile,vacuum and roller mechanical tissue manipulation nips and stretch fibrillar connective tissue,effectively break down subcutaneous fat as well as extruded capillary vessel,increase lymphatic drainage,promote metabolism and reduce or shrink the size of the actual fat chamber,thereby greatly improving body shaping effect.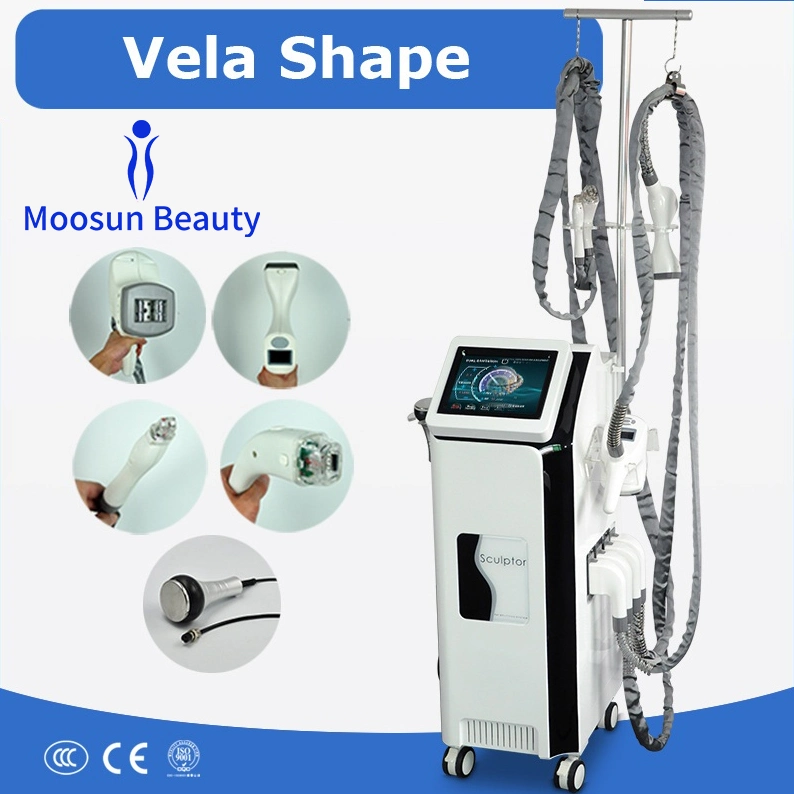 The Vela Slim device employs Four technologies including Infrared, Bipolar RF, Vacuum, Massage mechanism.
1.Infrared light (IR) heats the tissue up to 5mm depth.
2. Bi-polar radio frequency (RF) heats tissue from 2 to 20mm depth.
3. Vacuum + Massage mechanism accelerate blood circulation and increase blood flow, so as to drain the excessive water and body waste.
4. 40kHz focused ultrasound cavitation effect, to cause tons of microscopic air bubbles to surround the lipocyte (fat cell) membranes and with its resonant frequency, the bubbles cause a high enough pressure to cause the fat cells to break up instantly.



Technical parameter




Description




Velashape




Voltage




220-240V/50Hz, 100-130V/60Hz




Input power




750VA




Working Mode




Pulse




Pulse width




1s-9s




LCD screen




10.4 / 8″ Chromatic Screen




Handpiece screen




1: 2.4inch + 2: 1.9inch




Safety checking




Real time on line




Handpiece: 5pcs


1. Big vacuum+Massage+Infrared light for body * 1


2. Small vacuum+Massage+Infrared light for arm, leg * 1


3. RF (Infrared light) for face * 1


4. RF (Infrared light) for eye * 1


5. 40KHz cavitation for body * 1



Treatment area




4*7mm, 8*25mm, 30*50mm, 40*60mm






Negative pressure





1) Absolute value: 80kPa -10kPa (60.8cmHg-7.6cmHg)


2) Relative value: 20kPa -90kPa (15.2cmHg-68.4cmHg)


Roller working mode




4 types





Rev of roller




0-36 rpm




RF frequency




1-5MHz




RF energy density




Yes




Laser wavelength




940nm




Laser power




MAX 20W




Cavitation




40Khz




Packaging material




Standard export wooden case or aluminum case



Packing size


68*65*123cm




Shipping method




By ship / By air / By express (DHL / FEDEX / TNT / EMS...etc)




Plug type support




AU,CN,EU,JP,UK,US,Other



Language

multiple

OEM/ODM service

7 years

Certificate

CE,ISO,RoHS

Warranty

12 months

Functions:
1.Face lifting and skin tightening
2.Body shaping/body circumference reduction
3.Face and neck wrinkle eliminating
4.Removes acne and black circle around eyes,eye bag
5.Improving skin-metabolism
6.Unique for upper eyelid
7.Skin surface smooth/massage
8.Cellulite reduction
Mechanical Manipulation (Vacuum +/- Massage mechanism):
a. Stimulates lymphatic and blood circulation

b. Facilitates fibroblast activity

c. Reduces viscosity of fat cell clusters.
d. Promotes vasodilation and extravasation of oxygen and nutrients
e. Enables heating at different depths vacuum&rf slimming equipment
Heating (infrared + radio frequency energies):
a. Enhances blood circulation and increases oxygen dissociation from oxyhemoglobin
b. Facilitates fibroblast activity
c. Increases metabolism of fat cells. suslaser beauty equipment
d. Improves skin texture

Advantages of the unique system:
a. Convenient 10-treatment protocol

b. Ideal slimming device for circumference reduction

c. Visible results in as few as 1 treatment session

d. Treat an average size abdomen, buttocks or thighs in 20 minutes

e. Offers treatment as comfortable as human massage with specially designed vacuum and roller

f. Delivers optimal results for treating both the deeper tissue and skin's surface .