Scope of applications:
1. Remove tattoo of body, eye line, lip line and eyebrow
2. Remove nevus of ota, coffee spot, age pigment and freckles

Treatment features:
1. High power handpiece, strong and real energy output, instant and outstanding effect.
2. Integrated laser cavity, anti-vibration, anti-swing, no beam deflection.
3. Auto mode radiator and special design cooling system with high efficiency make the machine work continuously 24 hours.
4. Visible window for water level, easy to look into the water of water tank
5. Microcomputer counts the shoots, friendly user interface with LCD display screen
6. Innovative laser technology, the treatment is effective and outstanding without injury, scar or side effect.
7. Environmental Power Supply with CE standard, easy to maintain
Theory
Laser Tattoo Removal utilizes the explosive effect of ND: YAG laser, the laser permeates the epidermis into the dermis and takes effects on pigment mass and is absorbed by pigment. Since the laser pulses are extremely short in nanosecond and comes with super high energy, the pigment mass would swell quickly and break into break into small pieces, which will be eliminated through metabolism. In this case, the pigments become lighter gradually and finally disappear.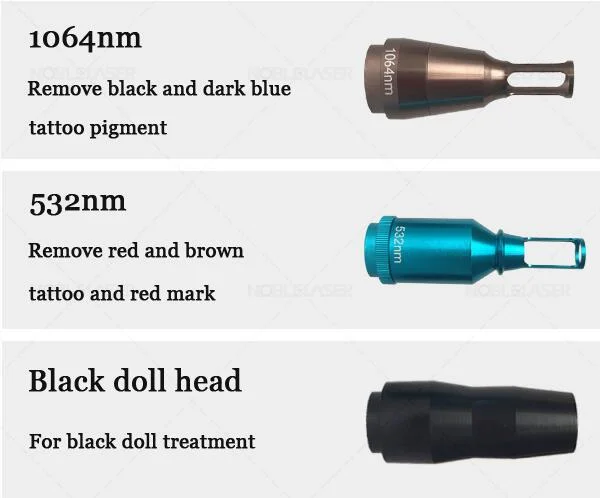 | | |
| --- | --- |
| Laser Type | Q-Switched Nd: YAG laser |
| Head | 1064nm& 532nm& Black doll |
| Pulse energy | Single Pulse: 1000mj |
| Duration (WIDTH) | 6ns |
| Pulse Repetition Rate | 1-6Hz, Adjustable |
| Voltage | 500-1000v, Adjustable |
| Indicator light | Ruby indicator |
| Treatment Area | 1mm2 - 7mm2 |
| Cooling Method | Closed-loop de-ionized distilled water cycle |
| Power Supply | 220V/110V ± 10% 50Hz/60Hz |
| Weight | 20 kg |
| Tilt sensor | available |
| Language | English, Spanish, French, Portuguese, German, Russian |