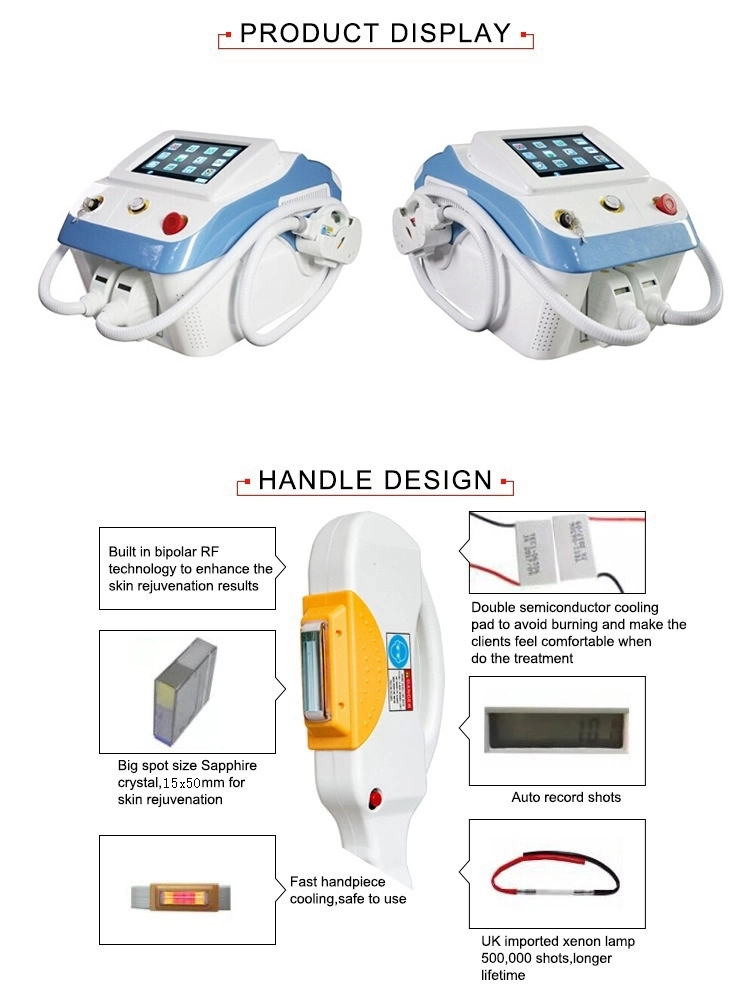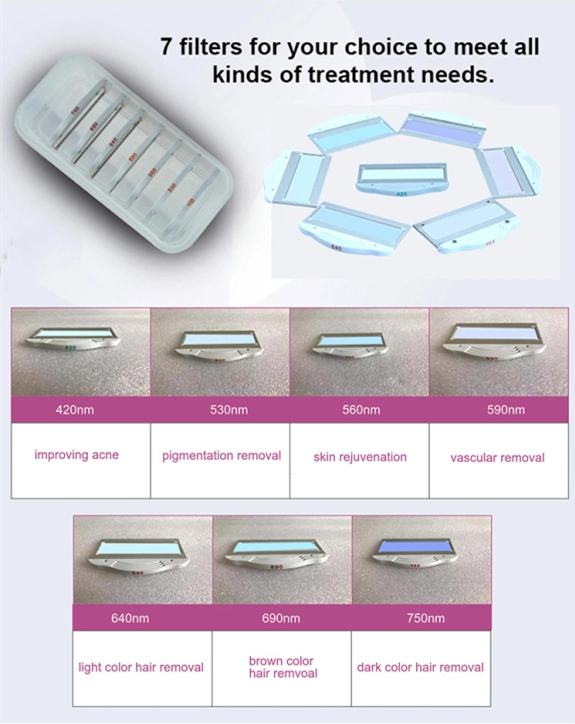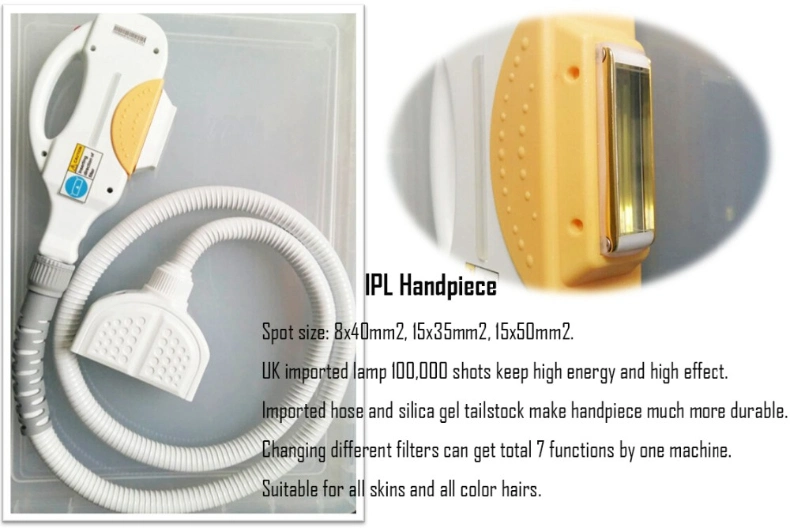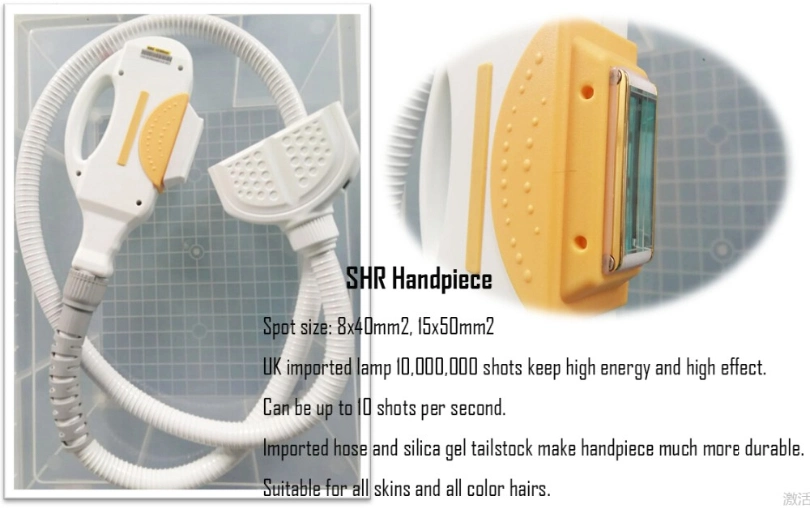 1, Specification
IPL
| | |
| --- | --- |
| Light source | Intense Pulse Light |
| Wavelength | 420nm/530nm/560nm/590nm/640nm/690nm/750nm |
| Counter handle | Yes |
| Spot size | 8x40mm2; 15x50mm2;15*35mm2 |
| Energy | 1~36J/cm2 or 1~50J/cm2 |
| Continually shooting timer | 1~60s |
| Pulse repetition rate | 1~10Hz |
| Pulse | Single |
| Pulse width | 2~20 ms |
| Display system | 8.4 inch colouful touch screen |
| Drive power | 2000w |
| Power supply | AC220~230V/50~60Hz, 100~110V/50~60Hz |
| Dimension | 57x44x42cm |
SHR
| | |
| --- | --- |
| Wavelength | 560-950nm/640-950nm; 690-950nm/750-950nm |
| Counter handle | Yes |
| Spot size | 8x40mm2; 15x50mm2; |
| Energy | 1~36J/cm2 or 1~50J/cm2 |
| Continually shooting timer | 1~60s |
| Pulse repetition rate | 1~10Hz |
| Pulse | Single |
| Pulse width | 2~20 ms |
| Display system | 8.4 inch colouful touch screen |
| Drive power | 2000w |
| Power supply | AC220~230V/50~60Hz, 100~110V/50~60Hz |
| Dimension | 57x44x42cm |
2, Advantage of SHR series
*. SHR machine is with Single pulse mode can emit energy averagely, however, IPL machines are with Multi-pulse mode which focus energy on first pulse, which is very easy to burn patients.
*. SHR filtered violety light and infrared light, which will eradiate and absorb water from target skin. So SHR costnot have any side-effect to body.
*. With DEC technology. Indentified function makes operation simple, and makes treatment safely.
*. With bigger frequency (from 1 to 10 Hz). Which accelerate operation speed and short a lot of time for treatment.
3. Difference between Normal IPL and SHR
| | | | |
| --- | --- | --- | --- |
| Parameter | Normal IPL | SHR | Advantages |
| Work Mode | Multi pulse mode | Single pulse mode | Single pulse mode can emit energy averagely, however, multi-pulse mode focus energy on first pulse, which is very easy to burn. |
| Wavelength | 640-1200nm | 640-950nm | SHR filtered violet light and infrared light, which will eradiate and absorb water from target skin. So SHR does not have any side-effect to body. |
| DEC-Techno-logy | Unavailable | Available | Make sure energy output accurate and same with the display all the time, which makes operation easy and safe. |
| Frequency | 0.2-1Hz | 1-10Hz | Which accelerate operation speed and short a lot of time for treatment! |
| Work techno-logy | Stationary techno-logy | In motion technology | Moving IPL can use less time to do treatment on back, leg and arm. |
| Power | 1200W | 2000W | Big power for more effective result. |
4, Application of SHR
*. Everlasting Hair Removal: Unwanted hair under arms, legs, lips or other body parts.
*. Telangiectasis, vein treatment.
*. Skin Rejuvenation: Shrink pores, tighten skin, improve skin elasticity and glossiness.
*. Pigmentation treatment: Removal various kinds of pigment such as freckle, choloasma, aged spots, sunburn, etc.
*. Acne treatment.
5, Characteristics of SHR
*. Intelligence
*. Easy to operate
*. Stable operation
*. Simple and beautiful
Our Services
For the after sell service, we provide 1-2 year warranty and life
time repair service. With warranty period, we will provide spare parts free of charge including DHL delivery cost. If the machine has serious working problem, we have the "exchange policy". We will send you a complete new machine for change.
Company Information
Weifang HuameiElectronics Co., Ltd is the professional high-tech company specialize in the development, produce, sales and service of the IPL,SHR, Diode laser, Nd YAG Q-switched laser,RF and Elight, Cavitation equipments in China. Our quality products are hot selling items both in domestic and some Southeast Asian, Europe, Middle East etc. We enjoy sound reputation in the medical and aesthetic field for our durable machines and good service. Our products are widely used at the department of beauty salon and dermatology hospital and medical institute.
Our company has Quality Authentication System: ISO13485
Our products have TUV,FDA certificates.


FAQ
Q1, What Certificate your company and products have?
A1, ISO 13485, TUV medical CE, FDA, SFDA.
Q2, If your company offer ODM/OEM, any cost?
A2, Color, logo, machine design and software design free of charge.
Q3, What's your Warranty and service?
A3, 1-2 year warranty, 24 hours online service, technical support for life.
Q4, If your company offer training?
A4, Manual, video, online, welcome to visit our company for further training;
Q5, What is your payment terms?
A5, T/T , L/C, Western Union are acceptable.
Q6, What is your delivery time?
A6, Within 7 Working Days After Payment.
Q7, What is the package?
A7, Unified use luminium case.
Q8, What about the machine color?
A8, Many colors for your choices.
Q9, Does the interface support multiple languages?
A9, Yes, our interface is multi-language.